Welcome!
Apostle Islands Booksellers is a full-service bookstore, featuring regional titles and authors, but we do much more than provide a great selection of carefully chosen fiction and non-fiction titles. If you can't find what you're looking for here, please do not hesitate to contact us at 715-779-0200 or email us.
You are here
Back to top
The Long-Shining Waters (Milkweed National Fiction Prize) (Paperback)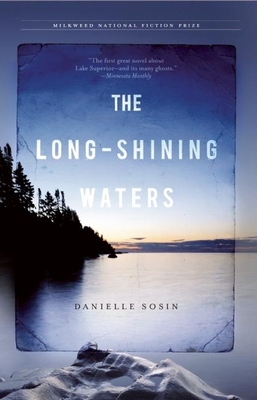 $16.00

Usually Ships in 1-5 Days
Fall '12 Reading Group List
---
"Milkweed's 2011 National Fiction Prize winner takes us deep into the lives of three women separated by four hundred years, and living on the shores of Lake Superior, as they cope with the hardships and solace of the large, cold, and brutal lake. Each has a story to tell very much in keeping with her era: Grey Rabbit, an Ojibwe, is haunted by disturbing dreams in 1622; Berit is the wife of a Norwegian fisherman in 1902 who deals with loneliness and tragedy; Nora's life as a seasoned bartender unravels in 2000, and she takes a journey around the lake to find herself. There is a rhythm to these stories, reflecting that of the turbulent waves of the lake."
— Barbara Seipker, The Cottage Book Shop, Glen Arbor, MI
Description
---
MILKWEED NATIONAL FICTION PRIZE WINNER
INDIE HEARTLAND BESTSELLER
ONE BOOK SOUTH DAKOTA SELECTION
MINNESOTA BOOK AWARD FINALIST
MIDWEST BOOKSELLERS BOOK AWARD FINALIST The Long-Shining Waters is the story of three women, separated by years and circumstance but connected across time by a shared geography: the inland sea of Lake Superior. Rich with historical detail, each character comes vividly to life in this luminous debut novel. Grey Rabbit, an Ojibwe woman living by the lake in 1622, is a mother and wife whose dream-life has taken on fearful dimensions. As she struggles to understand "what she is shown at night," her psyche and her world edge toward irreversible change. In 1902, Berit and Gunnar, a Norwegian fishing couple, also live on the lake. Berit is unable to conceive, and the lake anchors her isolated life and tests the limits of her endurance and spirit. And in 2000, when Nora, a seasoned bar owner, loses her job and is faced with an open-ended future, she is drawn reluctantly into a road trip around the great lake.
About the Author
---
Danielle Sosin is the celebrated author of The Long-Shining Waters, which, in hardcover, was the 2011 Milkweed National Fiction Prize Winner, a Minnesota Book Award Nominee for Fiction, a Midwest Connections May 2011 pick, and an Indie Heartland Bestseller in June of 2011. With more than thirty events around the Great Lakes and coverage in the LA Times, National Geographic Traveler, and a feature in Publishers Weekly, Danielle's debut novel has been a wild success, and is poised for a long life in paperback nationally, but especially around the Great Lakes. Her fiction has been featured in the Alaska Quarterly Review and on National Public Radio, and she has received fellowships from the Virginia Center for the Creative Arts, The Ragdale Foundation, and Anderson Center. She lives in Duluth, Minnesota.
Praise For…
---
Midwest Booksellers Choice Award Finalist
Minnesota Book Award Fiction Finalist
Indie Heartland Bestseller
Winner of the Milkweed National Fiction Prize

"The Long-Shining Waters is a beautiful story of three very different generations of women whose relationship to their landscape, the same landscape, is a force as powerful as the people they love and live among. Each in her own way receives solace from the lake as the articulation of loss and hardship weaves itself into their character. Deeply felt, beautifully crafted, The Long-Shining Waters is a quietly wonderful book."
Sheryl Cotleur, Book Passage, Corte Madera, CA
 
Sosin captures the majesty of a Great Lake I've never seen in all it's dark storminess. The four interwoven narratives become a poetic chorus, stretching back through history, reinforcing the notion that the lake was here before us and will be around after us too. Great for book clubs."
Daniel Goldin, Boswell Book Co., Milwaukee, WI

"Milkweed's 2011 National Fiction Winner is indeed a winner that takes us deep into the lives of three women, separated by four hundred years, living on the shores of Lake Superior. The Long-Shining Waters, just released in paperback, was hand delivered to us last summer by Duluth, Minnesota, author, Danielle Sosin. It was a joy to read this past winter and journey into the different lives of these women as they cope with the hardships and solace of the large, cold and brutal lake. Each has a story to tell very much in keeping with her era. Grey Rabbit, an Ojibwe, is haunted by disturbing dreams in 1622; Berit is the wife of a Norwegian fisherman in 1902 dealing with aloneness and tragedy; as Nora's life as a seasoned bartender unravels in 2000 and she takes a journey around the lake to re-find herself. There is a rhythm to the stories, reflecting that of the turbulent waves."
Barbara Siepker, The Cottage Bookshop, Glen Arbor, MI

You don't see writing like this often, so infused with an intimate relationship to nature, certainly not in debut novels."
Los Angeles Times

Danielle Sosin evokes the unforgettable pull of this watery expanse [Lake Superior]."
National Geographic Explorer

"In The Long-Shining Waters, her remarkable debut novel, Danielle Sosin tells the story of three women - as well as a fourth character who dominates their lives: Lake Superior itself, seemingly self-contained but ultimately unknowable...All three stories are amazingly textured, reflecting lightly worn research on topics including Ojibwe life, Superior geology and--especially--the tools and rituals of daily work, from sewing and fishing to bartending and glassblowing. Parceled out in increments that rarely last longer than a few pages, these three stories are themselves interwoven with brief, lyric interludes that recount Superior's own history and give voice to both the Great Lake itself and to the drownedfrom inanimate timber to lost sailorsentombed there."
Milwaukee Journal

Danielle Sosin has written the first great novel about Lake Superior--and its many ghosts."
Minnesota Monthly

We are plunged, fascinated and chilled, into one of three alternately narrated stories that make up this masterful ode to the sprawling, shape-shifting freshwater sea that is Lake Superior. . . . The construct is brilliant, the prose fine, the characters beautifully developed, the regional sense powerful. . . . This ode to the greatest of all lakes is nothing less than grand."
Minneapolis Star Tribune

Elegant. . . . Through the stories of three women who lived centuries apart, Danielle Sosin explores the spirit of Lake Superior."
St Paul Pioneer Press

"Sosin connects [her characters] to the history of their times and to the big lake, a constant presence in their lives....The book has a strong resonance..."
Amy Goetzman, MinnPost

"The riveting opening moments of The Long-Shining Waters delivers us to the animate world of Grey Rabbit, four hundred years gone, and we realize we are in the hands of a visionary writer. Danielle Sosin's beautiful, resonant prose is a joy, and her devotion to what compels us to gather on the shores of great waters distinguishes this novel that is, as well, a great story. The intimate portrait of three women bound by their times and coming unbound in the great tidal pull of history is deeply affecting, wise and true. The Long-Shining Waters is an enchantment, a challenge, a tale to fall into and carry long after it's done."
Patricia Weaver Francisco, author of Telling

"A truly inspiring and ambitious work of fiction. Haunting in its depiction of the life of its characters, The Long-Shining Waters is a wonderful book. I loved it.""
Nuruddin Farah, author of Knots and Links

Sosin writes sensuously detailed prose and distills the emotions of her characters into a profound and universal need for acceptance and love."
Publishers Weekly

"Sosin writes sensuously detailed prose and distills the emotions of her characters into a profound and universal need for acceptance and love."
Publishers Weekly