Welcome!
Apostle Islands Booksellers is a full-service bookstore, featuring regional titles and authors, but we do much more than provide a great selection of carefully chosen fiction and non-fiction titles. If you can't find what you're looking for here, please do not hesitate to contact us at 715-779-0200 or email us.
You are here
Back to top
This Superior Place: Stories of Bayfield and the Apostle Islands (Paperback)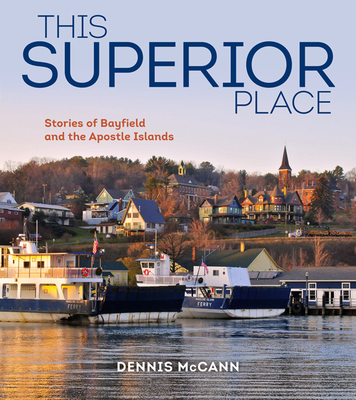 $19.95
Email or call for price
Description
---
Picturesque little Bayfield on Lake Superior is Wisconsin's smallest city by population but one of its most popular visitor destinations. This book captures those unique qualities that keep tourists coming back year after year and offers a historically reliable look at the community as it is today and how it came to be. Abundantly illustrated with both historical and contemporary images, This Superior Place showcases, as author Dennis McCann writes, "a community where the past was layered with good times and down times, where natural beauty was the one resource that could not be exhausted by the hand of man, and where history is ever present."
Because Bayfield serves as "the gateway to the Apostle Islands," the book also includes chapters on the Apostle Islands National Lakeshore, Madeline Island, and the nearby Red Cliff Ojibwe community. It also covers the significant eras in the city's history: lumbering, quarrying, commercial fishing, and the advent of the orchards visitors see today. It is not a guidebook as such but more of a visual and written tour of the city and the major elements that came together to make it what it is. Colorful stories from the past, written in Dennis McCann's casual, humorous style, give a sense of the unique characters and events that have shaped this charming city on the lake.
About the Author
---
Dennis McCann spent most of his professional life traveling Wisconsin and the Midwest for the Milwaukee Journal and Milwaukee Journal Sentinel. A Wisconsin native and graduate of the University of Wisconsin–Madison, he is the author of four previous books on Wisconsin travel and history, including Badger Boneyards: The Eternal Rest of the Story (Wisconsin Historical Society Press, 2010). He and his wife, Barbara, a retired teacher, reside in Bayfield, where nearly every day begins with a superior sunrise.
Praise For…
---
"Punctuated with photos, this book reveals the history that made the region and offers delightful tidbits about events and lifestyles. It's a great gift for all who love this Superior place by the Big Lake."(Konnie LeMay, editor, Lake Superior Magazine)